I want to combine acting and glamour: Divya Unni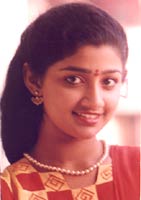 Divya began her career as a child artiste in Joshi's film Nee Ethra Dhanya and her first film as heroine was Swagandhigam opposite Dilip. Since then, she has acted in over 23 films with all the top heroes of Malayalam. She currently has a Tamil release, Kannan Varuvaan opposite Karthik. Other Tamil films in the offing are Sabash opposite Parthipan, Andan Adimai opposite Sathyaraj and Sukham with Madhvan besides a film with Ramki, Palayathe Amman. She spoke to indiainfo about her entry into films and her ambitions.

Excerpts:

Do you come from a filmi family?
Not at all. My father Unnikrishnan is working in Cochin Shipyard and my mother is a teacher in Bharathiya Vidya Bhavan. I got my first break as a child artiste in Nee Ethra Dhanya when I was in the fourth standard. It was followed by Pookalam Varavayi directed by Kamal and Oh Faby by Srikuttan. I also did a TV serial directed by Vinayan. My first feature film was Sowgandhigam which I did when I was in the tenth standard. In fact, all these offers came as I am a trained classical dancer and had given many performances. I was given the Kalathilakam and Bhavans Jothi titles. This brought me into the notice of Kochi-based film directors and thus film offers came by.

Are you accepting films in Tamil because you have no films in Kerala?
(laughs) In fact, I was offered the heroine's role in Suryavamsham and Unnedathil Ennay Koduthaen which I could not accept because of my exams. Pandu, the director of Kalvettu is a good friend of my father and it was because of him that I agreed to act in it. However, a film by C Sundar got released first. One thing led to another and today I have four films on the floor in Malayalam including a film each opposite Manoj K Jayan and Dilip.

It seems you have no qualms doing glamour roles in Tamil?
Why should I? Wearing glamourous dresses are a must in songs for Tamil films, but I will not be doing revealing roles. Just because Tamil producers are giving me more money does not mean that I will do anything. For me the role is very important, not the money. I want to be known as a good actress in Tamil and like Sridevi, want to combine glamour and acting.

Are you still studying for the fun of it?
I am doing my first year BA in St Theresa's College, as I don't want to miss out on the joys of campus life. All my friends are in college and it is there that I can let my hair down and relax. Moreover, my friends see me as just a friend and not as a film actress.
© ThatsMalayalam.cjb.net (2000-2004) Powered by alvin4u.cjb.net