Black Pearl Shines On Silver Screen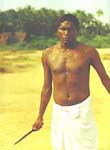 IM Vijayan, the ace footballer, has made a mark in Celluloid through Jayaraj's national award winning movie Santham. But his debut attempt as an actor was in Kalo Harin, a documentary directed by Cherian Joseph few years back.

Now he got another star value apart from football. Yes, Vijayan is now a glamorous film star of Malayalam. He has completed his second feature film, Akashathile Paravakal directed by V.M. Vinu, which is scheduled for a release in May 2001.

Indiainfo had the pleasure of talking to Vijayan and Vijayan in his interview has openly come out with his inner feelings and wishes related to film world.

Your entry in to the film world was unexpected. If you don't mind please, elaborate?
I was attending a function of Telecom in Thrissur, when I met Jayaraj. He told me that he has selected me for his next movie. I was surprised and asked him if he was fooling me. But he was serious. We had a few discussions on the movie in the next days and finalized it in Dubai, where we were attending an award giving ceremony organized by Dubai Malayali Association. When I returned from Bangladesh (he was playing for Bangladeshi club at that time) the reel started rolling.

How did you feel, when you faced the camera?
It was not the first time I was facing a camera. I did it years back when Kalo Harin was being shot. Kalo Harin was a documentary on my football life. More over, I don't have stage fear, as I am a footballer.

What is your opinion about Jayaraj?
He is a brilliant filmmaker who knows exactly what he wants from an actor. He tapped my inner capabilities smoothly. I was not acting but simply obeying him.

Santham won the national award for best film. Now Santham has been selected to Sri Lanka to support their peace initiative campaign. What is your comment on this?
Jayaraj called me when Santham won the national award. Even though desi critics rejected Santham, it is getting international recognition. That's enough. I played (football) in Sri Lanka years back. They know me. If I can be a peace messenger to the island through this movie, it is a great a reward to me.

You acted in your second film, Akashathile Paravakal. How is it different from Santham?
It is a totally different movie. It is fast and pacca commercial film. Kalabhavan Mani is hero and I am playing the villain, Valayar Manikkam. He is drunkard and always teasing the heroine and her family. Stunt scenes in the movie are excellent and I have liked them. Thyagarajan is the stunt master. As a child, I always had admiration for stunt master Thyagarajan. I am excited that I am working with this great stunt master.

What are your cinema wishes?
My favorite film star is Mohanlal. I liked his award winning performances in Kireedom and Bharatham. You know, I have seen Narasimham, a Mohanlal blockbuster, 10 times. I have a deep desire to act with him. I hope to get an opportunity to act with him.

Any new movie projects?
No. Now I am concentrating on world cup qualifiers.

Finally, what is the relation between you, football and cinema life?
(Laughs) How can you imagine IM Vijayan without football? All these credits including status, money and even cinema roles are the result of my football career. Football is very important for me.
© ThatsMalayalam.cjb.net (2000-2004) Powered by alvin4u.cjb.net