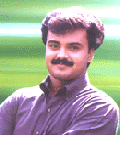 Interview

Kunchacko Boban


"I am not in any love triangle", says Kunchacko Boban, the teenage heart-throb of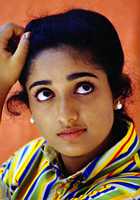 Malayalam film industry. Recently all the film magazines had carried gossip items that the most eligible bachelor is caught in a love triangle and this casanova's two timing with the beautiful girls.. The girls are the two budding actresses Kavya Madhavan and Joemol.
We spoke to Kunchacko Boban on this and he totally denied it.
Q: Tell me about your reaction on the recent gossip about you?
A: I too read about this and people are asking me about it. Instead of getting upset, I am shocked that these two girls are competing with each other to get my attention. Am I that handsome? (Looking at his hairy chest… smiles)
Q: But may be you worked with them in earlier films?
A: Yes! I worked with Joemol from Mayilpeelikavu to Niram and Kavya Madhavan was my heroine in Dhosth. Now in Fairy Tale my heroines are Samyukta, Aishwarya, Manya and Joemol. Now I am going to gulf for a programme with these girls. Will the press say that, I am in love with four heroines?
Q: How did all this start?
A: See I am the only target of the press. When I started my career I was linked with Shalini as she was my heroine Aniyathipravu and Prempujari. After she got married to Ajith that love story came to an end. This is also like that. There is no truth in the whole story.
Q: But everybody in the sets of Dhosth saw that you and Kavya were more than just hero and heroine?
A: That happens. We were shooting together for almost 25 days for Dhosth and being friendly with your co-star is nothing but natural. We are friends and same is the case with Joemol. We all are in the same age group and hence people start weaving stories.
Q: But nobody saw you denying this report at that time?
A: Why should I? My parents are aware about the film industry and there is no need for me to clarify it. People who get a vicarious pleasure by doing all this will keep quiet after some time. I want to only concentrate in my career right now and not on gossips.
Top
© ThatsMalayalam.cjb.net (2000-2004) Powered by alvin4u.cjb.net